See the display of the many beautiful gifts made from 180,000,000 old natural sandstone. Natures own art gallery.
Our retail shop, located in Kanab, Utah, is nestled between the red cliffs of Southern Utah. It is operated as a separate entity from Western Hills Rock & Gems. If you enjoy the inspiring beauty of the Grand Canyon, Lake Powell, Escalante Grand Staircase Monument, Bryce Canyon and Zion National Park, you will love our products. If you like the unusually breath taking formations of Southern Utah and Northern Arizona, be sure to take a piece of it home with you. Stop by our retail shop and select a piece of sandstone, that is unique to the area, as a souvenir.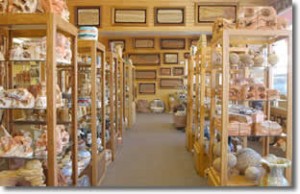 ---
Upon visiting us you'll see that we have more than our picture sandstone products. Enjoy our displays of other stones unique to Utah and Arizona, such as Geodes, Septarian, Selinite and Petrified Wood.
We have Onyx, Jasper, Amethyst, Quartz Crystals and more. We have bookends in over 10 different stones, in a variety of sizes. Glance at our Turquoise and other semi-precious stone Indian Jewelry, Dream-catchers and Pottery.
We have an excellent selection of collectables and gift items for those passing by as well as enough for even the most avid rock hounds. We look forward to seeing you.