Arts
Many art galleries can be found within the Grand Canyons Region
Ravens Heart Gallery:
Ravens Heart Gallery stands for art with heart; expressing kindness, compassion and respect for all life. Art that inspires us to explore deeper parts of ourselves where we can find peace, beauty and a sense of connection.

Ravens Heart Gallery features the works of Gary Kalpakoff http://www.garyalankalpakoff.com/ and Cyrus Mejia http://cyrusmejia.com/ along with other established and emerging artists from the region and beyond.
Located at:
57 West Center Street
Kanab, UT 84741
Contact them at: 435-644-5644
For more info visit them at http://Ravensheartgallery.com
Walt Thirion Photograpy Gallery:
Located at: 238 W Center St, Kanab, UT 84741
For more information visit their website at: http://waltthirion.com/
ABOUT THE ARTIST
It's said that one of the reasons people collect art is to communicate a message about themselves to the world.
Sometimes, that message is about more than the collector and their aesthetic leanings, it's about something important they believe in or a cause they feel passionate about, in which a piece of art, or an entire collection, can become a way to effect change in the larger world.
Hi, I'm fine art landscape photographer Walt Thirion. I strongly believe that art has the power to bring people together around a common cause. For me, that cause is environmental conservation and preservation.
If what's important to you is artistically beautiful and technically superior fine art landscape photography that also adds to the greater good through a focus on environmental conservation, you will find a passionate and like-minded aesthetic here.
My hope is to use my work to raise awareness of environmental issues, and that those who visit my website and my Kanab studio will be motivated to support environmental conservation and education though both direct action and financial support.
To that end, part of the proceeds from the sale of my work goes directly to environmental conservation initiatives that preserve and protect the landscapes and wilderness areas I photograph.
Rockin V Cafe and Art Gallery ( The Rafters Gallery):
Located at: 97 West Center Street, Kanab, Utah 84741
Contact them at:(435) 644-8001
Artist Statement
Art is what YOU like.
And thank the Giant Monkeys with headphones, we don't all like the same thing. Art is good. It makes life better. So we set out to create a space that was full of cool art, at a cool temperature, created by cool artists, so the cool people waiting to eat in our cool restaurant could have a cool place to hang out & look at cool art.
The Rafters Gallery ...upstairs... at The Rocking V Cafe is Kanab, Utah's space for art. All the artists are from the area(as long as you are willing to consider Texas part of far, far eastern Utah). We have an interesting & eclectic mix of artication in: black & white photography, oils, pastels, wood sculpture, DSC (digitally saturated color....I made up that term) photography, steel work, ceramics & plaster.
We rearrange the arrangement from day to day, as dictated by sales, cloud cover and pure, unadulterated whim to confuse the staff and to amuse the public.
Our art prices are non-negotiable due to the fact that whatever business you are in, you probably don't give discounts to people who want to bargain for your services. For those who want to haggle, go out to Hollywood and get on Let's make a Deal or lacking the airfare, stay home & play on eBay all day.
Our CRAP (committee reviewing articational proclivities) team is constantly scouring the greater Kanab-Fredonia metro area and the near beyond for new talent and, as mentioned above things change and art sells. SO, if you see something you like, BUY IT! It may be gone tomorrow.
The Artists of The Rafters Gallery:
Chris Brock :: Dallas, TX


Chris' outstanding eye for unique composition and his mastering of the process I call Digitally Saturated Color(DSC) will leave you thinking of Andy Warhol riding the open range. Brock is a master of many media, including producing, directing, shooting(film, video, stills) & the time-honored tradition of BS'ing. A little of Chris' color in your life will get you on the right track, just watch out for the train! ::http://www.chrisbrocktv.com

Victor Cooper :: Kanab, UT


Stunning landscape photography from areas near and far on the Colorado Plateau. Printed on aluminum with a vibrant gloss finish. Beautiful AND durable but don't serve nachos on them! Also canvas prints of the wondrous rock formations in the Grand Staircase-Escalante National Monument, Vermillion Cliffs National Monument and other incredible natural areas surrounding Kanab....The Middle of EVERYWHERE!

Ani Eastwood :: Missoula, MT
Oils inspired by the grandeur and majesty of the Grand Canyon and the Colorado River running through it. :: http://www.anistubefineart.com

Gary Kalpakoff :: Alton, UT


Gary's life-sized, welded petroglyph figures of both human & animal forms will bring you closer to this area we all love so much. You may also see more of his work at the Raven's Heart Gallery, a few doors down from The Rocking V. ::http://www.garyalankalpakoff.com

Carrie Lambert :: Grand Canyon, AZ
Hand made, Mixed media jewelry from shells, beads glass & stone

Pearl Meadows :: Springdale, UT
Pearl's collection of hand-made, mixed metal jewelry includes playful human forms and geometric shapes, beautifully crafted from sterling silver, brass, bronze and re-purposed Utah copper. :: http://www.pearlmeadows.com

Doug Polzin :: SLC, UT


Intricate & Abstract Wood sculptures that open your mind to new interpretations of how we view form. Plus he's a cool guy.

Pieter Schfaasma :: Flagstaff, AZ


His style is impressionism of which he paints mainly watercolors of landscapes and architecture. He makes his own picture frames using wood that he harvest from The Colorado Plateau.

Simone Sellin :: Marble Canyon, AZ


Simone is still hangin' out down the end of ol' House Rock Valley road with no phone, punchin' tin, makin' masks & prints, hand printin' cards and doin' some paintin' on ammo cans and board. This, in addition to doin' some river guidin' and cookin' as well as findin' time to paint our inner door and our menu box here in Hooterville, er, Kanab. Her use of bright colors and southwestern designs make her works a pleasing sight in any room. The woman is cool, but don't go out to visit unannounced, as she will release the Mexican alligators that live in her mote on your sorry behind. No, really.

Serena Supplee :: Moab, UT


Happy Watercolors & AMAZING Oils inspired by the Colorado Plateau. From small, delicate pieces to towering canvases, Serena captures the spirit of slickrock. Look for her next time you're rafting the Colorado. :: http://www.serenasupplee.com

Connie Townsend :: Flagstaff, AZ


Amazingly entertaining oil portraits of man & woman's best friend: the dog. And sometimes: the cat. And sometimes that other best friend: the old truck. Combine 'em all and you'll see why her work is so loved. Who doesn't want a dog that can drive a truck? Townsend's sense of humor and her love for the animals clearly reveals itself on each gallery-wrapped original. Of course Townsend lives in constant fear that she will be run over by Toonces, the cat that could drive a car. ::http://www.connietownsend.net

Tom Wesson :: Moab, UT
Tom's rock "Partial-glyphs" have fooled more than one rock-digger into accusing us of selling stolen antiquities. Great conversation pieces for the house or garden AND they get better looking as they weather. And remember , these "canvases" weren't picked up at the art supply store. Tom's skilled hand-pecking is a sight to behold!

Caralee Woods :: Kanab, UT


Wonderfully detailed, hand carved and hand painted gourds, featuring Native American designs as well as other creative patterns and themes.
The Thunderbird Foundation for the Arts:
Located at:
2200 State St, Mt Carmel, UT 84755
Contact them at: (435) 648-2653
For more information visit them at: http://www.thunderbirdfoundation.com/
Founded in 1999 through the Bingham Family Trust, the Thunderbird Foundation for the Arts is a 501(c)3 non-profit foundation whose mission includes the preservation and maintenance of the Maynard Dixon home and property in Mt. Carmel, Utah. Built in 1939 by Dixon and his wife Edith Hamlin, the foundation has been instrumental in having this important historical Utah property placed on the National Register of Historic Places and as such will be included as one of the places to visit on historic Highway 89. Located near the important early Utah settlement of Orderville, the Dixon home and studio is an important destination for visiting artists wishing to partake of the beauty and spirit of Southern Utah where great painters and sculptors, writers and photographers have come for retreats and convivial inspiration for over sixty years.
Self guided tours are available Monday through Saturday from 10:00 AM to 5:00 PM for $10.00 per person. Formal tours of the property are conducted by the docents at $20.00 per person. These tours are by appointment and are may be scheduled daily
Culture
Check out the many local history and cultural museums located near Kanab!
Kanab Heritage Museum:
Located at: 13 South 100 East
Kanab, UT 84741
Contact them at: 435-644-3444
Open: Monday - Saturday 9:00 AM - 7:00 PM *Closed November - February*
Admission: Free
The Kanab Heritage Museum is like no other museum you've ever seen. Housed in the "Old Kanab Library", the building itself is an artifact of and tribute to the pioneering men and women of the West who sought greater knowledge by building a library for the community to enjoy.
Walk through every era of Kanab's unique history and get right up close to museum artifacts that are over 150 years old, and others that are hundreds and even thousands of years old. See first-hand what life was like for native people, early western explorers, the pioneers, and early settlers as you browse collections including:
Pioneer kitchen supplies
Quilts and textiles
Clothing and wedding dresses
School sweaters, jackets, and uniforms
Ladies hats
Toys and dolls
Historic photos, maps, and tools
Photos of military servicemen and women
Military uniforms
Military memorabilia
and so much more!
Heritage House Museum:
Located at: 15 South Main Street
Kanab, UT 84741
Contact them at: 435-644-3966
For more information visit them at KanabHeritageHouse.com
Admission: Free
Open: Monday - Saturday 12:00 PM - 7:00 PM
Winter hours: Thursday - Saturday 12:00 PM - 7:00 PM
The Heritage House was originally completed in 1894 as a residence for Henry Bowman and his family. It has since served as a home to other prominent families in Kanab. As you explore the house you will gain insight in to the ideals, struggles and accomplishments of the early Utah pioneers. Stop in for a Free Guided Tour!
Kanab/ Kiabab Family History Center:
Located at: 20 West Center Street
Kanab, UT 84741
Contact them at: 435-644-5973
Admission: Free
Open: Tuesday - Wednesday 9:00 AM - 9:00 PM
Thursday - Saturday 9:00 AM to 6:00 PM
For more information visit them online at familysearch.org
Come discover your roots!
Free to the public
Free Wifi
Video Presentations
Genealogy Research Center
Open Computer Labs
Little Hollywood Museum:
Located at: 297 W Center St, Kanab, UT 84741
Contact them at: (435) 644-5337
Admission: Free
Open: 7 Days a week 9:00 AM until dark
The Little Hollywood Movie Museum is located directly behind the gift shop in a grove of lush cottonwood trees. The museum has been designed as a fully immersive experience. As you walk among the movie sets, we encourage you to touch and relive the vivid illusions brought to the big screen by some of the world's most famous actors and directors. Since 1924, the area around Kanab, Utah has played host to over 100 films and several TV shows. Early on, it was dubbed Little Hollywood and has been at the center of western movie production ever since.
We entertain tour groups from around the world with a short skit titled "How the West was Lost." The actors in the skit come from the tour groups themselves and a great time is had by all.
Moqui Cave Museum:
Located at: 4581 US-89, Kanab, UT 84741
Contact them at: (435) 644-8525
Open: Monday - Saturday 10:00 AM - 6:00 PM
Moqui Cave depicts the lives and architectural achievements of the Native Americans of the Southwest during the great Pueblo period. (AD 700-1200) Plus much more to see! Great for everyone!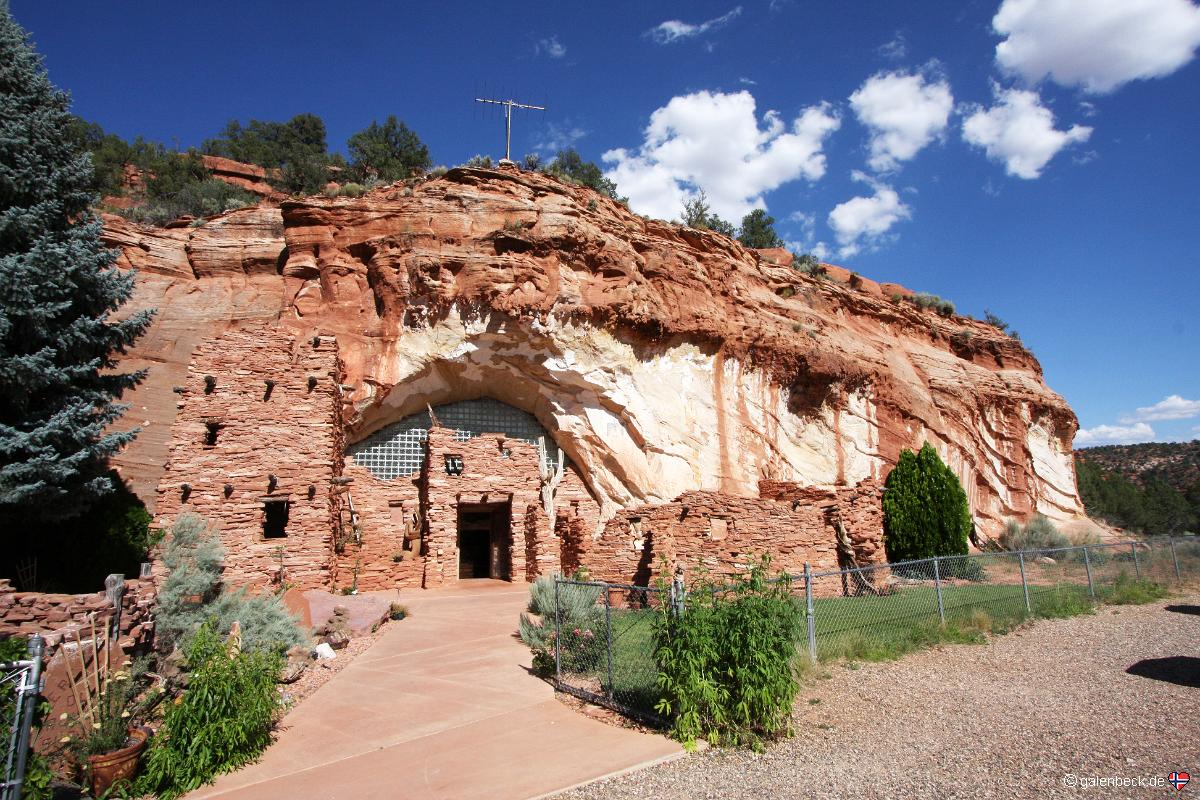 Fredonia and Surrounding Area:
Pipe Spring National Monument:
Located at: 406 Pipe Springs Road
Fredonia, AZ 86022
Contact them at: (928) 643-7105
Open: 7 Days a week 8:30 AM - 4:30 PM
Admission:
Located on the Piute Indian Reservation, learn about Ancestral Puebloans, Kaibab Paiutes, and members of the Mormon Church seeking religious freedom found refuge at Pipe Spring. Learn more about the history and culture of those who called this place home.
On May 31, 1998, Pipe Spring National Monument celebrated its 75th anniversary. Festivities included guided tours of "Winsor Castle," living history demonstrations, pioneer and Native American craft demonstrations, old-time tunes performed on banjo and fiddle, Indian dancing and drumming, and informal talks about the management and preservation of the monument.
Red Pueblo Museum:
Located at: 900 N Highway 89A Fedonia, AZ 86022
Contact them at: 928-643-7777
Open: Tuesday - Saturday 9:00 AM - 5:00 PM *Closed November - February*
Admission:
Discover pieces fo the puzzle left for us by the early inhabitants of this area. Clues they left to help us understand how they lived in these harsh lands. View the largest projectile point collection on public display in Northern Arizona. See and compare 300 year old pots made by Puebloan pots.
Be sure to check out the Fredonia Heritage Park while your visiting the museum. The Fedonia Historical Society offers a look back at the history and traditions fo the Arizona Strip. They chronicle the lifestyles from the early pioneer families through the timber indstry and mining periods in the area.
Entertainment
Cresent Moon Theater:
Located at: 150 S 100 E, Kanab, UT 84741
Contact them at: (435) 644-2350
For movie show times and other production information visit them online at www.cresentmoonkanab.com
Paula Zutes built the Crescent Moon Theater in honor and memory of her late husband, Nick Duncan. Construction began in 2002 and the theater opened in May, 2003. The Crescent Moon was conceived as a "Cowboy Theater," which fits the beautiful history of the Kanab area and its colorful history of western culture. The theater features musical entertainment, cowboy poetry, theater and dance performances, and film events. Today, the theater has contracts with major motion picture studios and shows first rate movies. Crescent Moon theater is Kanab's entertainment destination!
Red Stone Theatre:
Located at: 29 West Center Street Kanab, UT 84741
Red Stone Theatre is a local theatre group that puts on amazing productions! Check out their website for production showtimes and more! https://redstonetheatre.com/